Robots at #ERW2015: From imagination to market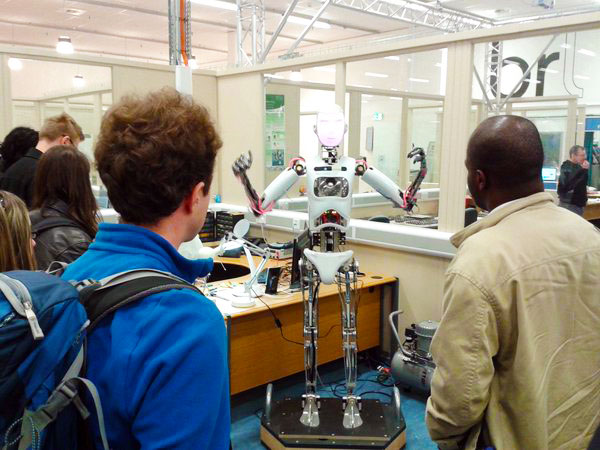 Bridging the gap between cutting-edge research in academia and the vibrant robotics startup ecosystem is no easy task. This Wednesday in the UK city of Bristol, a free public event titled "From Imagination to Market" — the centre piece of European Robotics Week 2015 — took on that challenge by bringing together leading innovators, researchers, startups and strategists. Below are the key moments and insights from the event.
Organised by euRobotics AISBL (which represents robotics stakeholders in Europe) and the Bristol Robotics Laboratory (BRL — one of the largest facilities of its kind in Europe), this event was packed insight, stories and advice.
The day kicked off with an introduction to robots in science fiction by Michael Szollosy and a look at the field of RoboLaw by Andrea Bertolini, before taking a deep dive into the BRL's state-of-the art research on swarms, human-robot interaction and soft robotics. Then we heard from up-and-coming startups Open Bionics and Reach Robotics, we got an overview of the UK robotics landscape, followed up by inside info from two of the UK's most successful corporations: Dyson and Ocado. In the middle of all this, we were whisked off to BRL to meet real-life robots before being brought back for a rousing panel discussion to bring all that freshly gained knowledge together.
There was more: the day finished with a robot build-a-thon, where kids aged 5-14 years helped researchers build 100 robots to 'treat' artificial cancer cells. Robot stations were also placed throughout Bristol's Science Museum, showcasing a swarm of 200 coin-sized robots, Thymio and TiddlyBot robots to program, the latest robots from the Robogals team, and students from Digimakers.
Here is a taste of what we learned in just one day:
What could be going from imagination to market in the future
Control in human-robot interaction can take four forms, BRL's Angelika Peer told us. First is bilateral control, where transparency, task performance, telepresence, robust stability and conflicting requirements need to be taken into account. Then we have shared control — the kind found in robotic assistive walking devices, or in the automation of assembly and transportation tasks, which can be performed either collaboratively with a human operator, or learned from humans by imitation. For the third category — supervisory control — Peer outlined the EU-funded project, VERE, which stands for Virtual Embodiment and Robotic Re-embodiment. Autonomous control makes up the fourth category, and this can be sequential, parallel, or parallel and symmetric.
Taking swarming into the real world through the simulation of basic rules forms the basis for Sabine Hauert's research at the BRL. Her interest in robot swarms inspired her research in nanoparticles to cure cancer. The challenge is to design the behaviour of the nanoparticles. How do you synchronise them? How sticky should they be to deal effectively with cancer cells? Hauert's research also translates to robot swarms that work in the thousands, and we're just now reaching that stage. Watch her TEDx talkhere.
BRL's Jonathan Rossiter has just received a £2.5m UK grant to make trousers out of soft robotics — a futuristic aide to enable those with mobility issues. The limitations of rigid robots have inspired his research, which forms part of the EU's Robosoft action. With applications in everything from mobile phones to alleviating deep vein thrombosis, soft robotics is really taking off. While it took 15 years to develop adequate motors, Rossiter believes work on materials will move much faster.
So when can we buy this stuff?
"It's just starting," said euRobotics road-mapping expert David Bisset. "We tend to use the phrase 'on the cusp.' There are a lot of products out there, but long way to go." The UK landscape, he said, is composed of four different areas: manufacturing and agricultural goods, healthcare and consumer, transport and cities and energy, and utilities and the environment. The drivers are economic, societal (such as the crisis in care for the elderly), markets (which are concerned with efficiency) and, finally, getting robots to do things we don't want to, such as vacuuming. But, crucially, the infrastructure needs to be in place for robots to become a valued part of activity. The biggest market is healthcare, with a value of £323bn. But it's not the value of the robots themselves, it's their impact that's important, and for this we need strategy, assets, skills clusters and challenges — landing a UAV at Heathrow, mapping out North Sea pipelines, and driving though a town, for instance. Here, SMEs are a very important part of the mix.
Coming soon to a market near you are cutting-edge robotic technologies from two of these SMEs: Open Bionics and Reach Robotics, both originating from the BRL incubator.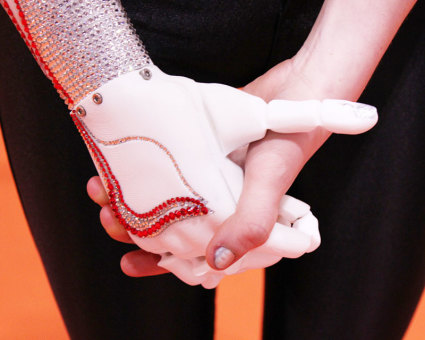 Open Bionics is the first company to use 3D scanning and printing to fit a prosthetic limb. The startups' CEO, Joel Gibbard, relayed how a handheld device that cost a couple of hundred pounds now makes it possible to customise every device, remotely and cost-effectively. The company took time to ask amputees what they wanted, and it turned out they would rather have a prosthetic that is comfortable, light weight, and that helps them celebrate their limb difference over a prosthetic that offers high functionality. To this end, Open Bionics focused on fashion and design, creating a
Swarovski crystal-encrusted prosthetic arm
, and partnering with Disney for Ironman, Elsa and Star Wars hands that light up (which produces additional benefits). Plus there's a subscription model in the works so that children can have the size of their prosthetic adjusted as they grow.
Reach Robotics CEO Silas Adekunle sees a future where video game characters will leap out of the screen into our world. Their robot, MekaMon, can do battle in both the real and virtual worlds, can be customised, and has its very own universe complete with epic battles. The company recently had its first round of VC funding, from Qualcomm and Techstars, among others. "When creating, startups are in the sausage-making business," he said, "It's lovely in front but a mess in the back." Team members have left and been replaced, and there have been 17 grants and 24 product iterations, said Adekunle. MekaMon is on track and due on the market for Christmas 2016.
The startup ecosystem
Support for startups, how to raise the funding, and what infrastructure is needed to allow startups to be successful were covered by the next two speakers, BRL's Farid Dailami and Renaud Champion of Robolution Capital.
"I'm looking for products that will solve a problem but not to replace someone," said Champion, speaking of his investment policies. "What I'm looking for is a bicycle for the mind, and project linked to robotics to solve any kind of issue: ethical, legal or societal." He had further advice for would-be entrepreneurs:
Meanwhile, for those ready to develop and test products, services or processes, Faisal Dalmanie outlined the facilities available at BRL's Robotics Innovation Facility (RIF).
Robots in the real world
Next up were two success stories from industry. Note that neither Dyson nor Ocado are companies that have previously worked with robots. The former is best known for vacuum cleaners and the latter is an online grocer. Their stories were inspiring because they show the power of robotics when it enters everyday life.
"The only way you are going to get something to work in the real world is by putting it in the real world," said Dyson's Mike Aldred. His key take away message was "test test test."Dyson's 360 Eye robot vacuum cleaner was 16 years in development and went through 110,000 trials in real homes over more than eight years. Two person-years were spent just in creating a test tool that identifies outliers and anomalies. But Aldred was keen to point out that, since it went on sale in Japan four weeks ago, the 360 Eye has already saved customers 250,000 hours that they could spend doing something else. However, for a robot be taken up, it has to perform better than a human, he said. His advice for would-be innovators was: "Always try to do something that can never possibly work. Innovation comes from thinking broadly and thinking differently."
Thinking very differently from the average grocer is what got online supermarket Ocado interested in robotics. The company's robotics research team leader Graham Deacon outlined the two major projects the company is involved with (in collaboration with European research institutes): Secondhands and SoMa, both funded via Horizon 2020 grants. SoMa is about using compliant robotic mechanisms to handle deformable products without conventional geometry, and Secondhands is seeking to develop a humanoid robot to assist maintenance technicians in routine and preventative maintenance. It's a hugely ambitious exercise in collaborative robotics to develop a safe robot that can work shoulder to shoulder with a human.
Bringing it back to the table
Researching and manufacturing robotics can be hugely expensive. Dyson spent £28m on research for the 360 Eye, and manufacturing ran into eight figures, said Mike Aldred. But although this amount of investment is a barrier to many SMEs, Jill Burnet pointed out that incubators, such as the one at BRL, can tackle niche market problems.
During the panel discussion that followed, three of the speakers were joined by the BRL's Innovation Manager Jill Burnet, and there was some final advice on bringing imagination to market.
#robot, #robotics, #supersmart, #latesttechnology, #infizeal,