The Drone Center's Weekly Roundup: 11/30/15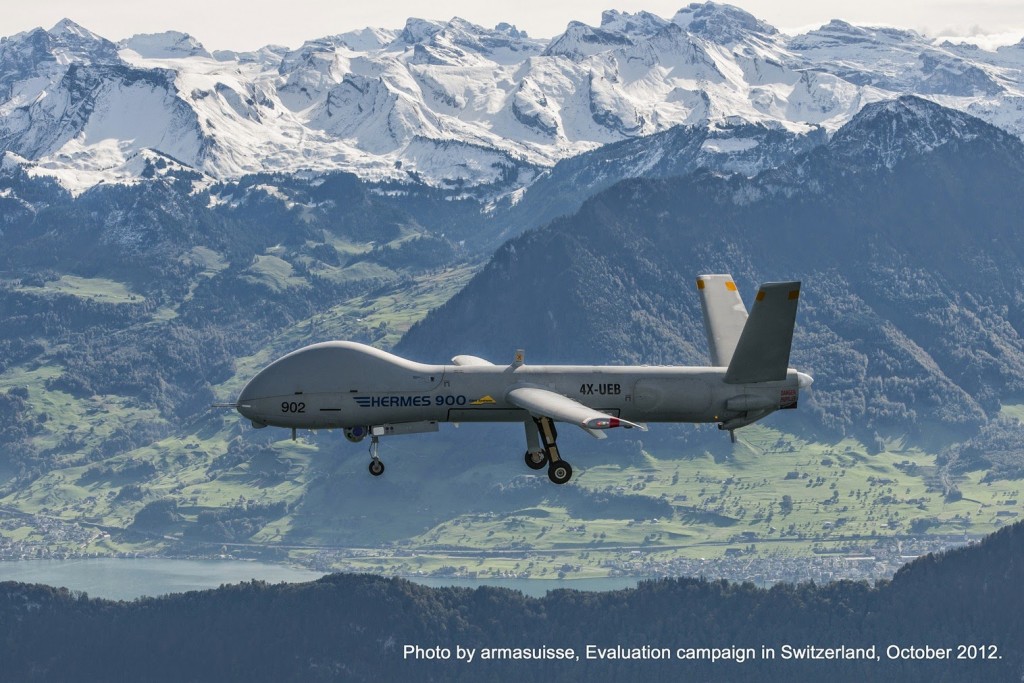 At the Center for the Study of the Drone
This fall season has been a busy one for the drone industry, and, for some a very lucrative one. The past few months have seen a spike in the sale of military unmanned systems, especially U.S. technologies that were previously restricted for export, while the commercial industry has seen a number of bold moves from startups and established industry leaders alike as market competition heats up. Here's what you need to know.
News
A U.S. drone strike in Afghanistan reportedly killed Khan Sayed, a commander of a breakaway faction of the Pakistani Taliban. The strike took place in Khost Province, near the border with Pakistan. At least 12 other militants are believed to have been killed in the strike. (New York Times)
Switzerland concluded a deal with Israeli drone manufacturer Elbit Systems to purchase an unspecified number of Hermes 900 drones, a medium-altitude, long-endurance unmanned reconnaissance aircraft. The $200 million deal will be fulfilled over four years. (Reuters)
Meanwhile, the Department of Defense announced that Boeing Insitu has won a $70.9 million contract to supply the government of Afghanistan with ScanEagle surveillance drones. The 65 ScanEagle aircraft and supporting equipment will be delivered by June 2018. (Press Release)
A U.S. MQ-9 Reaper drone reportedly crashed near Bagram Air Field in Afghanistan. The aircraft, which was based out of Kandahar, was completely destroyed, but no individuals on the ground were injured in the accident. The causes of the crash are under investigation. (Stars and Stripes)
A panel of judges for the Court of Appeals for the Second Circuit ruled that the Department of Justice does not have to release memos on the legal basis for U.S. drone strikes. The ruling is the latest development in a lengthy battle by the American Civil Liberties Union and the New York Times to force the Justice Department to reveal more information about the targeted killing campaign. (New York Times)
A man was ticketed in New York for flying a drone over the Macy's Thanksgiving Day Parade. The man, a tourist from Russia, told police that he was not aware of the rules against drone flights. (NBC New York)
An 18-month-old lost an eye after being struck by a drone in Worcestershire, England. The incident occurred after a nearby drone hit a tree, causing it to spin out of control. (TheTelegraph)
Commentary, Analysis, and Art
In a lecture at the Royal United Services Institute, former Gen. Stanley McChrystal said that the bases from which operators fly drones in the U.K. could be targeted by ISIS militants. (The Guardian)
At TechRepublic, Hope Reese speaks with the chief of police for West Fargo, North Dakotaabout how drones may affect law enforcement.
At the New York Times, Cecilia Kang takes a look at how airspace regulators are rushingto implement drone rules before the holiday season.
At Just Security, Brett Max Kaufman analyzes the Court of Appeals' decision not to order the release of the Department of Justice memos.
At the Art of Future Warfare, Marika Landau-Wells explains the inspiration behind her short story on the life of a drone operator.
At Wired, Matt Simon reviews the Drone World Expo, an event in California that featured dozens of drone manufacturers, businesses, and enthusiasts.
At the Wall Street Journal, Newley Purnell and Jack Nicas write that DJI, the manufacturer of popular commercial drones, is looking to build drones that appeal to farmers.
At the Los Angeles Times, W.J. Hennigan reports that military contractors are taking a larger role in operating U.S. drones to make up for a shortage in Air Force personnel.
At Lawfare, Zoe Bedell offers a few takeaways from the FAA's proposed drone registration requirements.
At Haaretz, Amitai Ziv profiles an Israeli video company that avoided bankruptcy by turning to manufacturing drones.
A Stratfor report examines the promise and challenges of commercial drones and the pace of regulations in countries around the world.
At Breaking Defense, Sydney J. Freedberg Jr. takes a look at the challenges faced by the U.S. Navy's new chief of unmanned systems.
Know Your Drone
U.K. Prime Minister David Cameron has announced plans to field a high-altitude long-endurance surveillance drone for surveillance operations. Though Cameron did not mention the drone by name, it is thought to be the Airbus Zephyr solar-powered unmanned aircraft. (IHS Jane's 360)
Meanwhile, Spanish officials have confirmed plans to eventually weaponize the military's future fleet of MQ-9 Reaper drones. (Flightglobal)
NASA is developing an unmanned helicopter to take aerial photos of Mars. (NPR)
A U.S. Air Force experimental X-56A drone, which is being used to develop ways of suppressing aeroelastic instability, crashed during a test in California. (Air Force Technology)
The U.S. Marines have placed a $13 million order for a new batch of Puma AE tactical surveillance drones. (GPS World)
The Guardian takes a close look at U.S. drone company PrecisionHawk's efforts to develop a cellular network-based air traffic control system for drones.
Quartz profiles the Cheerson CX-10, a $14 hobby drone.
Drones at Work
The U.S. Agency for International Development is considering using drones to deliver emergency medical supplies to remote areas in Ethiopia. (Drone360)
The state government of New South Wales in Australia has deployed small drones in anattempt to prevent shark attacks. (The Guardian)
The European Maritime Safety Agency and the European Space Agency are hoping that drones will be useful in identifying ships that don't comply with emissions limits. (Wall Street Journal)
Police in Dorset, England are testing whether drones could help aid law enforcement work. (BBC)
Meanwhile, first responders in eastern Ontario, Canada are using drones in a variety of life-threatening situations. (CBC)
The University of Manchester and Britain's Environment Agency are using drones tomonitor emissions levels from landfills. (BBC)
Cape Productions, an aerial photography company, has partnered with some U.S. ski resorts to create dedicated areas where skiers can pay for high-quality video of their exploits. (Orange County Register)
Secom, a Japanese security firm, will offer customers the capability track suspiciousindividuals or vehicles by using aerial drones. (Nikkei Asian Review)
A disaster recovery team in New Zealand used a drone to survey the site of a helicoptercrash on Fox Glacier. (Radio New Zealand)
#drones, #flying Robot, #infizeal, #latest technology,